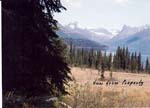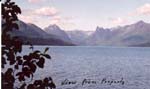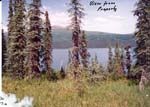 US Survey 9720 - Tract F, apr. 46 acres
Apr. GPS Coordinates: N 62° 26' 10 & W 151° 25' 49" - Datum: NAD 1927
An Absolute Stunning Location ! ! !
A place where so many want to be, but where no more land is available. This is truly the playground for the "Rich and Famous". No wonder, with only 20 private parcels on the whole lake and this one being by far the largest, the price is not cheap but worth every penny of it.
Where else in the world can you find a place that offers all these amenities; an eight mile long lake, partially surrounded by McKinley National Park, close proximity to the Park assures you that there is plenty of wildlife to see: Brown bears, Black bears, Moose, Fox, Martens, the occasional Wolf, Eagles, Owls, Hawks, Loons and of course, for the angler the opportunities abound.
Click on images to enlarge
The lake and the outlet, famous throughout the angling community (Lake Creek), is known for fantastic King Salmon, Red Salmon, Silver Salmon and best of all, world class Rainbow fishing. Not to mention, Grayling, Lake Trout, Burbot and Pike.

Since no motorized boats can make it up Lake Creek (float/rafting only) you won't see or have traffic like you have at other famous fishing destinations.
For those of you who are more into hiking, there are many peaks and valleys to be explored offering great photo opportunities of the surrounding glacial peaks; McKinley, Foraker, Mt. Russell, etc.
The owner would reluctantly split the 46 acre parcel in half for the right buyer, although if someone decides to buy the whole parcel the owner would give a $50,000.- credit towards construction of a cabin by Jay Friesen, a builder renown for building in "Bush" Alaska. See website for designs and prices: www. friesenscustomcabins.com.

The lake is accessible by floatplane from Anchorage, about a 50 minute scenic flight. Materials can be brought in on the nearby airstrip (apr. .5 mile away) where one can land a twin engine Skyvan (flying box car) to haul large size lumber or furniture.

Maybe you and your friends want to get together to buy this last bit of "Paradise" to call your own.

In order to preserve the integrity of the area, the property can only be broken into half (23 acres each) and no commercial operation what so ever.

The Price: $625,000.-
Click on images to enlarge